Mineral dealers in the A-C section include favorites like The Akenstone, Russ Behnke, John Betts, Collector's Edge and Crystal Classics UK. This page is updated twice a month and features all of the advertising sponsors of The-Vug.com. Each dealer is verified by The-Vug.com as a quality dealer. Scroll down the page to see a sample of what each mineral dealer sells.
Below, just click on the banner or the Featured Item photo or title to go to our Suggested Websites!
Affordable Mineral Specimens From Around the World
Featured Item:
Rose Quartz "Halo" on Smokey Quartz
Location: Sapucaia Mine, Galileia, Minas Gerais, Brazil

Size: small cabinet - 8.2 x 7.0 x 6.1cm

Item #: BRQZQZ01
Comments: The rose quartz crystals are very well defined, transparent, and display an appealing pink color. The smokey quartz is made up of several intergrown crystals that display quite a bit of geminess, some color "zoning" and excellent luster and transparency.
The historic Adelaide Mine located near Dundas in Tasmania, world famous for its beautiful crocoite specimens, has now been purchased from its owner of over 30 years, Frank Mihajlowits, by recently established enterprise, The Adelaide Mining Company Pty Ltd (TAMC for short). TAMC was created with the main aim of mining Tasmanian mineral specimens and then marketing these internationally. As well as the crocoite for which the mine is most renowned, TAMC will also be searching for the other related minerals which can be found at this location, these include dundasite, cerussite (plain and chrome), phosgenite and embolite, just to name a few.

A large number of good crocoite specimens have already been recovered during the early work carried out. These specimens have been comprised of a wide assortment of varying types, with crocoite found in many different colours, crystal habits and formations. One type of particular note being specimens that feature crocoite along with gibbsite, exhibiting multiple generations of growth in intricate tree like structures.

In addition to those minerals mined by itself, TAMC is also actively seeking out fine Tasmanian (and other Australian) mineral specimens, by either trade, purchase or to sell on consignment, in order to market them to the rest of the mineral collecting world.
Featured Item:
Crocoite
Location: Adelaide Mine, Tasmainia, Australia

Size: 8.5cm x 10.5cm x 9cm

Weight: 103g.

Item #: LR109.
What do I collect? Chinese Minerals, which you can see on display at the University of Arizona, Tucson campus, on display until December 2013

What do we do in "real life?" In mid-2000, I finished (FINALLY!) my thesis to complete graduate studies for a PhD in Biochemistry and Molecular Genetics. Dealing with the mechanisms of control of gene expression by nuclear receptors (estrogen, vitamin A, vitamin D, thyroid hormone receptors, etc...). I earned my doctoral degree at the University of California-San Diego, which is what brought an Ohio boy this far West in the first place. Despite conflict between rocks and biology, biology won out at some point and I decided to pursue the PhD and perhaps go into academia.

With the advent of the internet, however, I changed my mind and, given the chance, I am now pursuing the minerals FULLtime and then some(obviously!).

I was one of the first websites to begin selling minerals on the net, and I think that the internet has lent new life and excitement to this hobby that I have loved since childhood. It is a pleasure to have taken part in this change, and I thank my friends and customers for their support!
Featured Item:
Painite and Ruby
Location: Kyauk-pyat-thet, Mogok, Burma

Size: 4 x 3.5 x 3 cm

Item: OB14C-31

Comments: The Guinness Book of World Records has described Painite as THE rarest gem mineral, and therefore Painite is considered one of the "Holy Grail" of rare minerals. It was named after its discoverer, British gemologist Arthur Charles Davy Pain. Discovered in Burma in the early 1950''s, from 1956 until 1979 only three crystals of this hexagonal mineral were known to exist for many years. This deep red, glassy crystal is an astounding 2.2 cm long, with superb luster. It is very difficult to find specimens that even exceed a few millimeters in length! This one is surrounded by a harem of dozens upon dozens of gemmy pink-red Rubies by association. This is from a small pocket found in literally strip-mining a mountain there around 2000-2002. This crystal has exceptional luster and form. Aesthetic matrix pieces were very rare, although single crystals came in abundance for the first and last time. In context of the finds, this is a superlative, important piece that is as sexy and display-worthy as they get.
Arrowwood Minerals is a "no frills" website developed to offer the best value in quality mineral specimens from my personal collection. I am downsizing my collection and have several hundred fine specimens, as well as several hundred additional specimens acquired at major shows and from exchanges and purchases from other collectors and dealer friends.

I don't have fancy graphics or a neat shopping cart / checkout feature, but I do have many minerals from locales no longer producing, in quality that is often very difficult to find anymore. Compare the aesthetics, quality and price to those of some of the high priced, big name dealers, and you will find that my offerings are second to none.

This is a new website and is pretty much unknown, so I plan on adding specimens every few weeks to get things up and running. I do not plan on leaving "SOLD" minerals on the site for more than a few days after they are sold. There are plenty of folks that do not have high speed connections and downloading a lot of sold specimens irks people. If you are looking for anything in particular, send me an email with your wants and I'll see if I have anything for you. Most of my collection consists of display quality miniatures and small cab specimens. I am a collector of high quality cerussite, and will trade or purchase if you have anything I need.
Featured Item:
Azurite
Location: Milpillas Mine, Cananea Dist., Sonora, Mexico

Size: 3.5 x 3 x 2 cm

Item #: #41

Comments: Well crystalized on both sides with electric blue, lusterous Azurites
Welcome to AsbestosMinerals.com, your home on the internet for information and sales of Asbestos and Asbestos related minerals!

On the site you will find Asbestos from all around the world, handmade Asbestos paper and information about all the things "Asbestos"
Featured Item:
MagnesioRiebeckite
Location: Alto Chapre, Bolivia

Item #: 137

Size: 10 inches long 2 inches thick

Comments: We could certainly just break this specimen into several smaller pieces and charge nearly $100 for each chunk. I bet we could get 8 or 9 of those...but I had requests for some larger specimens, so here it is! What a deal!
Considered the world's most established gem and mineral gallery, Astro Gallery of Gems is located in the heart of New York City across from The Empire State Building. Our 10,000 Square Foot showroom has thousands of minerals, gems, fossils and pieces of rare and unusual jewelry on display.

We carry specimens suitable for the novice as well as the most advanced collector. We have everything from tumbled stones to 2000lb amethyst geodes.
Featured Item:
Cavansite
Location: Poona, India

Size: 4 x 3 x 2 inches

Item: A perfectly terminated ball of electric blue cavensite on matrix from Poona, India. Top color bright and lively-- no damage ! Mint condition
Here at BandLMinerals.com, our goal is to offer a wide variety of the finest mineral specimens at reasonable and affordable prices. For ease of search, you can search by Mineral type, by localities, or by price. Click on one of the pictures below to search by Mineral type, or use the locality or price searches in the left toolbar. Enjoy!

Featured Item: Fluorite included with Pyrite
Location: Illinois.

Size: 10.1x6.6x1 centimeters.

Item #: A beautiful polished slice of banded Fluorite included with Pyrite crystals from Hardin County, Illinois.
For over thirty years I have been dedicated to offering the best possible mineral specimens. Some of these may have especially fine form, while others have great color or superb crystallization or rare associations. Specimens with a great story behind them and an interesting provenance are also of special interest. Owning the best one can is one of life's rare pure joys. I hope you can spare a moment and enjoy the specimens on my site.
Featured Item:
Euclase
Location: Ouro Preto, Minas Gerais, Brazil

Size: 1.12" tall

Comments: Color change Euclase
Customer satisfaction is my primary goal. I pledge:
New minerals will be added to this site every week.
All minerals offered will be naturally crystallized specimens - no fakes, no irradiation, no crystals glued on matrix.
Photographs will accurately represent each item - no exaggeration, enhancement or retouching flaws.
Mineral species and localities will be accurately listed on labels with each specimen.
Only the exact item pictured on the site will be shipped - no substitutes.
All items will be shipped via US Postal Service, usually the next business day after the order is finalized.
Each mineral will be individually wrapped and carefully packaged to prevent damage during shipping.
All historic labeling, if available, will be included with each mineral.
Returns are gladly accepted. No questions asked, no explanation necessary.
All customer information will be kept confidential and never shared or sold.
I will continue to freely share my knowledge with others and contribute to the study and appreciation of minerals.
John Betts New Minerals areposted on Tuesdays to the following pages:
Featured Item:
Diamond
Location: Russia

Size: 18x14x14 mm 26.52cts

Item #: 57264

Comments: Exceptionally large single octahedral diamond crystal with lustrous crystal faces with triangular crystallization patterns on the surfaces. Internally the diamond crystal is transparent with gray inclusions and planar flaws throughout. No damage.
We are pleased to present our selection of minerals, mineral products, crystals and gemstones. We are excited to establish a long term relationship with you. Our galleries provide a wide and varied selection of items and price ranges. Our inventory is ever changing as we acquire new stock. We feature classic localities and what's hot in the world of minerals. Please visit our eBay store, Rooster's Rocks. Seller ID: rooster5rocks
Featured Item:
Bixbite
Location: Violet Claim, Wah Wah Mts, Beaver County, Utah, USA

Size: 10 x 9 x 8 mm

Item #: P-069

Comments: This beryl crystal is of the rare red variety named bixbite. It is from the Violet Claim, in the Wah Wah Mts of Beaver County, Utah, USA. It is a gemmy crystal with minor rhyolite matrix attached. The crystal has 4 exposed facets and a single termination.. It has a glass luster and measures.
I founded ChucksRocks.com in 2007 as an extension of my love for rocks and minerals.

Early in 2007, I purchased a small piece of property in Teller County, Colorado. The property is known as the Sleeping Princess Mine and has produced beautiful amazonite and smoky quartz specimens, along with several other pegmatite minerals. The property is near Crystal Peak, and is located in an area known for producing very fine specimens.

I am a geologist and mining engineer, and I work at a mine in Virginia. This online business is really just a way to help pay for my hobby and give me an avenue to "share" some of the great finds from the Sleeping Princess property.

You will find some great Colorado minerals on this site as well as several other specimens. I've picked up here and there.

Browse and enjoy!
Featured Item:
Libethenite
Location: Miguel Vacs Mine, Vila Vicosa Evora District, Portugal

Size: approximately 2.6" 66mm

Item:
Cinderhill offers a variety of stones for the metalsmith, wire wrapper or beader as well as our unique handcrafted pendants. Our range of materials is varied as we have collected the majority of our rough throughout our 20 years of being in business. Materials we use are hand selected for their beauty. Unique cuts have been our forte through the years and our emphasis on druzy stones has been a mainstay of our product offering.
Featured Item:
Agatized Drusy Shell
Location: India

Size: The bead measures 2 3/4" x 1".

Item: ID# 477
The Collector's Edge Minerals, Inc. is an acknowledged, industry-leader in locating, exploring, and developing mining properties for their mineral specimen and gemstone potential. As a professional mineral specimen mining company, we have developed special specimen location and extraction techniques that dramatically improve the quality and quantity of specimens removed from crystal cavities. We, also, apply leading-edge mining and recovery techniques to our gemstone mining operations.

Collector's Edge scours the globe to acquire new, unique, and superb quality mineral specimens. Our contacts and travels enable us to offer you specimens acquired directly from mines/miners around the world; specimens obtained from some of the world's most important contemporary mineral collections; and choice specimens traded from the inventories of dealers worldwide.
Featured Item:
Barite
Location: Elk Creek, Meade County,South Dakota

Size: 11.2 x 12.1 x 5.3 cm

Item #: 08-02-9874

Comments: This large cabinet barite specimen features a 4.5 cm tall root beer colored crystal that is both gemmy and lustrous. The barite crystal is nested in honey-yellow calcite crystals to 1 cm. Barite specimens with the luster this one has are not common making this a great catch for any collector! The specimen comes with a label stating it was collected in the late 50's by C. Lewis. Ex-Dr. Dave Roter Collection
Enjoy browsing our galleries of quality minerals that we have for sale. Click any image for additional photos and information Contact us with questions or concerns . Thanks for stopping by. Doug Wahl
Azurite and Malachite
Location: Liu Feng Shan Mine, Anhui Province, China

Size: 4 x 3 x 2.5 inches

Weight:
Comments: Classic locality and very aesthetic !
My goal is to provide you with a good variety of fine minerals at reasonable prices. When you're in the St. Louis area take about an hour drive south to visit the Missouri Mines State Historic Site in Park Hills (formerly Flat River) Missouri. Situated in the buildings of the largest former mill and mine in the Old Lead Belt, the museum contains one of the finest displays of mining equipment and minerals in the Midwest!
Featured Item:
Variscite
Location:Fairfield, Utah County, Utah

Size: 8.9 x 4.4 x 1 cm

Comments: Even though the label only states "variscite", the other rare to uncommon phosphate minerals (crandallite, wardite, and perhaps millisite) normally associated with it from this famous locale are present on this polished slice.
Crystal Classics is one of the world's premier sources for fine mineral specimens. Dealers since the early nineties, we carry one of the most varied inventories available, from classic UK locality specimens to outstanding world wide minerals. We have been involved in the dispersal and sale of some of the world's finest mineral collections, supplying both private collectors and museums around the world. Now we can bring these fine specimens directly to your door!

Visit us at www.crystalclassics.co.uk for top quality classic minerals!
Featured Item:
VESZELYITE on CHRYSOCOLLA
Location: Black Pine Mine, Flint Creek Valley, Granite Co., Montana, USA, North America

Size: 3.1 x 2.4 x 0.5 cm

Item #: BL3582
Comments: Crystal of Veszelyite from the classic USA location of the Black Pine Mine, Montana. The Veszelyite is seen as euhedral spiky crystals measuring to 0.9cm pleasingly aggregated in areas on a pastel blue sheet of Chrysocolla. The Veszelyite has a rich deep blue colour and a great lustre. Some of the Veszelyite crystal faces are accented by pale blue growth of Chrysocolla. A neat miniature specimen from the mine.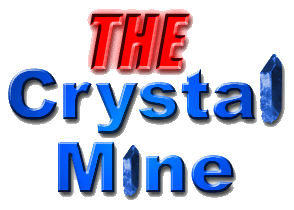 The CRYSTAL MINE has quality mineral specimens and crystal specimens from large cabinet to thumbnail sizes, with pictures/photos of our mineral and gemstone specimens offered. We have specimens available from Mexico, China, USA, Europe, Peru, Africa and the rest of the world. We also offer self collected mineral specimens from mines and locations in the Western United States, not offered anywhere else. Look for new mineral and crystal specimens at the Crystal Mine on about a bi-weekly basis. I try very hard to keep my prices reasonable, and still have good quality specimens. Please take a look and see what you think. Thank you.
Featured Item:
Pyromorphite
Location: Bunker Hill mine, 9 level, Jersey vein, Kellogg, Coeur d'Alene dist. Shoshone county, Idaho

Size: 3.2 x 3.5 cm

Weight: 40g.

Item #: JC3277
Comments: Yellow/green group of this classic material. Cute miniature.
Top quality material from the latest finds at the best prices.

Crystal Spring minerals specialize in the wholesale and retail of Northern Cape and Namibian minerals and mineral specimens.

Our is website is our pride and joy. It is also our source of income as we make a living out of supplying rocks to all dedicated rockhounds and rockshops around the globe. We strive to bring our customers the best quality material at the best price and from the latest, most exciting finds in the Northern Cape, South Africa and Southern Namibia. As we specialize in rock and minerals from this region, we strive to deliver the best service and expertise. Our customers are our most valuable asset. Come on in and enjoy the ride.
| | |
| --- | --- |
| | Have a look at our eBay auctions. |
After starting to trade in crystals and minerals on Ebay, we decided to open our own rock website. The cost of listing items on eBay is relative high and people go to auctions to pick up bargains. This is good for both seller and buyer but has a huge disadvantage if one wants to market top notch, high quality products.

We offer a specialized handful of crystals, minerals and lapidary rough and offer it with pride to our rockhound, lapidarist and metaphysical customers. Our rocks, minerals and crystals are hand picked and carry our 100% satisfaction guarantee.
Featured Item:
FLUORITE
Location: Orange River, South Africa

Size: 67mmx47mmx20mm

Weight: 60g

Comments: Beautiful green octahedral fluorite on quartz specimen from the Orange River. Excellent colour and a stunning piece. There is some little contact to the edges and on the bottom of the specimen, BUT still a excellent piece. The third picture is a closer look to the beautiful octahedral fluorite.
Featured Item:
Chrysoberyl
Location:Kahawatta, Province of Sabaragamuwa, Sri Lanka

Size: 65,5 x 44,0 x 33,6 mm

Weight: 605.5 ct or 121.1 g

Item #: cs11-010
Comments: This is a huge Chrysoberyl crystal with a weight over 600 carats, disclosing a typical V-shaped twinning. The specimen shows good luster. The interior is hosting a kind of silk-like inclusions which would produce a cat's eye if cut and polished into a cabochon..but nobody should do that!!!
The majority of our materials are one-of-a-kind and are out-of-print, and include many hard-to-find publications. Check our stock for in-print items too - you will love the savings!

For Sale: Publications in the fields of geology, geoscience, hydrology, mineralogy, paleonotology, sedimentology, petroleum, meteoritic, oceanography, water supply, ground water, aquifers, biology, natural history, archaeology, seismology, wave dynamics, anthropology, ethnology, history, earth sciences and more - including papers, guidebooks, reports, circulars, proceedings, maps, bulletins, books, more ... for sale.. United States and world-wide!
---
AAA Minerals specializes in providing worldwide clients with fine Chinese minerals, fossils and carving stones. It also offers full services for purchasing tours, locality/mine visiting, mining projects and customized plans in China.
---
Absolute Clarity & Calibration, LLC
Absolute Clarity and Calibration offers on-site field service, microscope repair and refurbishments, NIST traceable optical calibration and sales of CNC Video systems, new and refurbished microscopes, bulbs and lighting equipment. With ACC you will see the difference.
---
Presenting the photography and writing of science author and meteorite hunter Geoffrey Notkin

I have been hunting for meteorites since 1994, traversing the hostile Atacama Desert in Chile, crossing Siberia and the Arctic Circle by helicopter, and traveling many thousands of miles across the United States and other countries in search of these elusive rocks â?? messengers from deep space and the beginning of time. My adventures regularly appear in print in Meteorite magazine and will be featured in a new meteorite book to be published in 2007. My work has also appeared in Rock & Gem, Geotimes, Lapidary Journal, Seed, Meteoryt (Poland), Reader's Digest, Tucson Showguide, TIMA (Japan), and many other national and international publications.

Aerolite Meteorites offers a select number of exceptional meteorites for sale on this site. Sales help fund future meteorite hunting expeditions which, in turn generate new research and published works. All meteorite specimens on this site are unconditionally guaranteed to be 100% authentic rocks from outer space, and every specimen comes with an Aerolite.org identification label. Don't miss the photographs of meteorites in our image gallery
---
We are a multifaceted company dealing in every aspect of gemstones, minerals and lapidary in the Central and Southern African Regions.

For the last 20 years we have been involved in organizing Gem & Mineral shows in South Africa. We have been the major exhibitor at all shows with very exciting displays. At the last show we exhibited a piece of Moon Rock, Meteorites and Dinosaur Eggs!

There are also beautiful displays of exotic African minerals from Tsumeb and the Kalahari Manganese Fields.

Gemstones - including the very popular Tanzanite from the Maralini district in Tanzania.

We are the source of the original AJOITE find in Messina, the only direct supplier of Ajoite in quartz crystals.
---
Agates From Argentina
---
We supply the Best Mineral Specimens straight from our Alaskan mines at wholesale prices. Alaska Garnet Mines is owned and operated by Istvan Toth - Miner, Wholesaler and Mineral Dealer. Wholesale Prices!
---
Like a lot of people who got interested in rocks at an early age, I completely forgot about them for many years, first when I discovered girls, and after rediscovering rocks, when I discovered I couldn't afford the ones I wanted. After a few years of college and chasing the Grateful Dead, in 1989 I married a Jane of my own (nice name, Jane...) and actually got her halfway up Mount Antero on our honeymoon (until she reminded me that Aquamarine was not what that trip was about).

Around 1990, I began gathering specimens for resale in the retail store I owned. I made a number of connections through ads, the internet, and going to shows, many of whom have become friends over the years. As time has progressed, I've narrowed my focus to Alpine and Gem Pegmatite minerals - the rocks that I find the most fascinating and the ones I could never afford as a kid.

I've been continuing the visits to rock shows ever since,and I've enjoyed getting to know many talented rock delaers and miners. And that leads to today I'm ready to start cutting loose some of the collection.
---
Amateur Collection Mineral Exchange
High quality mineral specimens from Mt. Vesuvius, Italy for exchange: panunzite, sarcolite, nepheline, humite, green sodalite, thomsonite, tenorite, magnesioferrite and more...
---
Amazing Agates is a family-owned rockshop, specializing in agates of all kinds, located in Sioux Falls, South Dakota. We have a selection of one-of-a-kind Lake Superior Agates, eye agates, Mexican Agates, Laguna Agates, Fairburn Agates, cutting rough and tumbling rough for sale.
---
Hello, I'm kirk anthony, a retired jewelry designer who just can't stop collecting and working precious gem minerals for the pure passion of it. I live half of the year in Mexico where I've discovered rare and unique materials not available elswhere. All of my gems are 100% natural with NO treatment or enhancement [available at LOW importer's wholesale-PLEASE EMAIL (or call me: BUT YOU CAN ONLY EXPECT TO REACH ME IN PERSON FROM 5-9PM, FRIDAY, SAT, OR SUNDAY) for prices or detailed information]
---
We buy and sell gems and minerals from around the world. We can offer a better price for your collection than can our competitors. We are members of the Fair Business Council/ Better Business Bureau. Many people tell us that we should advertise more, they cannot believe how much we have, Well here we are! If there is anything that you a re looking for, just drop us a note, we are always updating our selections. We cannot possibly list everything here that we have to offer.
---
Amethyst Galleries Mineral Gallery
Amethyst Galleries' Mineral Gallery is a large collection of mineral descriptions, images, and specimens, together with several ways of accessing these descriptions. The descriptions include searchable mineralogical data, plus other information of interest to students and rock hounds! The inline GIF images are linked to larger JPEG images, and this site displays thousands of images of previously sold mineral specimens as a service to students and educators (not just minerals for sale).
---
We are currently working to build this new web site, so please be patient as we are not quite finished. We have posted quite a few minerals from various locations around the world. However, you will see that we specialize in minerals from the southeastern U.S. Additionally, you will find some nice cut and polished agatized coral pairs from Florida and Georgia. We've also posted some Florida calcite that we've commercially mined from Ruck's Pit. Additionally, we have a variety of gem trees, hand made by Lory Maddox, using minerals that we've collected as bases. Please feel free to browse. Thanks for stopping by and we hope you will come back and visit us as we will be posting many more specimens over the next several weeks. If you have any comments, or questions, please visit our comments page and let us know. Have a great day!
---
---
---
Welcome to Arizona Skies Meteorites premier online resource for the finest in rare collectibles. You will find a wonderful selection of high quality meteorites, fossils and unique collectibles from around the world. Our collectibles make wonderful science gifts for those special people on your shopping list! We back all of our unique collection pieces with a 100% satisfaction Guarantee, and we are members of the International Meteorite Collectors Association (IMCA membership #6855), so you can buy with confidence. We will ship to anywhere in the World! We also buy meteorites, fossils and other collectibles. If you have something that you would like to sell please feel free to contact us. We update our webpages frequently, so be sure to reload your webpage each time you visit our site, and please be bookmark our site for future reference.
---
Minerals from Australia!
---
Barranca Diamond, Stone & Lapidary Products
Barranca Diamond manufacturers sawing and polishing equipment for commercial and hobby lapidaries and is the only US manufacturer of notched-rim lapidary diamond blades. We are also a supplier of continuous and segmented rim diamond blades, polishing equipment and polishing supplies for the stone and lapidary industry.
---
Beautiful Agates LLC, and its subsidiaries the Agate Nodule website and Fortification Press, are dedicated to bringing you the best in the world of exceptional agates. Our products are offered with the experienced and discerning collector in mind. We typically feature Lake Superior agate, Queensland agate, Laguna agate, Botswana agate, Dryhead agate, Fairburn agate, Brazilian agate, and Condor agate. The gallery is designed to demonstrate top privately held collector specimens, particularly of the banded agate varieties. We also buy fine quality agate specimens. We welcome pictures of any agates that you wish to have considered for the gallery, or that you may have for sale.
---
If you have spent any time viewing any of my websites you know that I have a passion for BaTiSi3O9 also known as Benitoite. This is the focus of my personal collection - benitoite from any global locality and mineral species from the Benitoite Gem mine. You can see some of the specimens in my collection by clicking the JV's Collection link above or below.

I created this website, not only to offer specimens for sale, but also as an information source for benitoite and the minerals that are found at Benitoite Gem mine. When I dream at night I dream of blue triangles! I really like this mineral a lot!

I do not deal in cut gemstones so if you are looking for that kind of benitoite you'll have to go elsewhere. The thought of flaking a crystal of this rare species off matrix and chopping it up is, to me at least, the equivalent of crashing a porsche into a tree for kicks. You can go to my pal's site Steve Perry Gem's - I refer to him as Steve's Chop Shop - for faceted benitoite.
---
Bestcrystals.com is the most extensive website of crystals and minerals in the world. We stock over 1,000 items at any given time, and our site serves as a resource for information about crystals and stones. Check our What's New Page for the newest additions to our site.
---
Here you will find the best specimens from Italy and from all the World!
---
---
Blackstone Mill Rocks, Fossils, Tools and Antiques
---
For 30 years I taught mineralogy in several Brazilian universities, always seeking to give a practical vision. I passed from laboratories classes to field classes leading the students to the states of Minas Gerais, Bahia and Espirito Santo, showing them the largest Brazilian minerals resources. I created a circle of friendship among the miners, prospectors and small regional merchants and I formed my private collection, nowadays my collection consist of some thousands pieces. Upon a visit several websites I realize that many interesting samples are not offered to the public. I learned from my studies that the old collectors can be interested on these minerals and the beginners can find materials at low cost with a great esthetic value. Thinking about that I organized this web-site to offer you pieces that are not available in any other web-site.
---
Welcome!! We specialize in mineral specimens from Brazil. Our goal is to provide the best deals in fine minerals, crystals and crystal clusters for mineral collectors and those who appreciate rocks, minerals and gems in general. If you are interested in a specific specimen or if you can not find it here, please let us know, so that we can see the avaibility in our collection. Be sure that we will make all the effort to bring you the best specimens at the best prices. If you wish to sell your collection, please contact us, we are always interested in buying fine minerals, rocks and gems. Any suggestions about our website and services will be welcome. Good rockhounding!!
---
The British Columbia Rockhounder
There are two easy options to choose from. If you belong to an LRMS-BC affiliated rock club, then you can enjoy a valuable saving by having your copies mailed (with others) to your Club's address. This costs $10.00 annually, and ensures you receive the next 4 editions. Start your subscription at any time of the year.

If you would prefer to have your copies mailed direct to a private address, sign up for a $16.00 annual subscription in Canada, or US$20.00 to a US address. Make cheques payable to BCLS. Contact us via:
---
We specialise in British minerals, especially from Cornwall and Devon, but also stock a large world wide selection.You can reserve specimens from the Mineral Gallery or send for further details by completing the request form on our Requests Form page. We attend a large number of major British Shows and hope to see you there. Check out the dates on the Show page.
---
Located in Boone, Iowa, Brushy Creek Gems and Minerals offers quality jewelry, fossils and minerals.
---
Interesting and beautiful minerals from around the world, with an emphasis on Canadian minerals.
---
Welcome to the first web gem site that focuses exclusively in exotic gems from the Golden State of California, USA.

We are Tom and Ken, with 40 years of combined field collecting experience. We are native to the San Francisco East Bay Area. We have been friendly neighbors for over 20 years and have enjoyed many camping trips and mining expeditions together. We have traveled thousands of miles on California's interstates and freeways, highways, byways, and skyways: From the Pacific to the Sierras, from low desert to high: Oceans, lakes, rivers, streams and creeks: On mountain logging roads, cow paths and railroad tracks. (Whew!) That's a lot of traveling! All of this has led to a continually growing and well documented collection that we enjoy sharing with friends and family. But now by the power of the Internet, we are able to share our California Gem Collection with many people from all over the world. We hope you will take a few minutes and have a look at some of our extensive and uncomparable collection of California's gems and minerals. Enjoy!
---
An extensive selection of Chinese minerals and fossils.
---
ChroLithix Corporation sells natural and created works of art composed of materials from the earth and even outer space. Unique and unusual pieces of quality combined with affordable prices create solid, lasting value for you.
---
WHAT IS MINERAL CURATION?
Mineral curation is the removal of unwanted stains, films, or coatings, unwanted matrix and broken crystals. The two principal ways of accomplishing this is with chemicals and by mechanical means.

WHAT ARE THE ADVANTAGES?
The advantages are two fold. One, you end up with a specimen that is more esthetically pleasing to the eye and two, you increase the saleability of the piece.
---
Colorado Gem & Mineral Company
Colorado Gem and Mineral Co. sells minerals from study quality to museum quality. Here on our website we try to offer fine quality minerals at good prices to both the beginner and the advanced collector. We like to pick our mineral specimens for geometry, color, and aesthetics. We encourage you to send us your want lists.
---
Welcome to the new web site, coloradominerals.com, a specialty site for Colorado minerals. We are listing more minerals every few days. Currently, I'm listing new minerals from the Commodore mine at Creede, collected in the summers of 2002-03. Some of the best sphalerite, galena, amethyst, and chalcopyrite combination specimens ever seen from Creede are in this lot of specimens. We have a large number of Colorado minerals out of the Marty Zinn collection listed at present. Marty Zinn is the owner of several satellite mineral shows at Tucson, Denver, Costa Mesa, and other large mineral shows. We are also currently listing specimens from the Tom Rosemeyer collection; Tom has been a collector of Colorado minerals for over 40 years, and has self-collected many of the pieces offered. He was also geologist and mining engineer at Camp Bird mine near Ouray for a number of years. We are also listing specimens from the Robert Stoufer (that's me) collection and shop inventory. Minerals listed will include those from old classic localities in the state, and also rarer locality pieces. We will attempt to have a broad range of specimens for almost every budget.
---
The Columbine Mineral Shop has been serving collectors for over 35 years. Located in beautiful Ouray, Colorado, we have specimens for everyone from the beginner to the advanced collector. Now we are bringing the shop from Colorado onto the net.
---
Welcome to Cornwall Devon Minerals. This site is dedicated as a whole to the sale of old and contemporary mineral specimens from these two regions in Great Britain. I will try to update the 'for sale' pages on the first of every new month and later will include thumbnails and micromounts.
---
Mineral specimens, quartz crystal singing bowls, crystal jewelry, and much more.
---
We feature fine mineral specimens from worldwide locations, ranging from aesthetic samples for the beginning collector to pristine pieces for museums. Our Mineral Gallery presents pictures of just a few of the many specimens we offer. Our Mineral Listings highlights descriptions of other items of interest. Both these sections are refreshed frequently so please bookmark us and visit often!
---
We have the finest, the rarest and the largest at the best possible prices. We are overseas hand selecting material at least six times per year and are constantly receiving new shipments. Nobody comes close to our vast range of material from Brazil, Madagascar, The Congo, China, America, in fact from all over the globe.

Owner - Rob Sielecki is one of Australia's leading Geologists. Robs Gem, Mineral and Fossil Specialists along with his Miners, Sphere Makers and Jewellers utilise all their experience to seeking out and preserve natural treasures from devastation. Many of the magnificent crystals and gemstones that adorn our museums were collected by our company members over the years.

CEO - Stephen Hill is determined to use the vast experience and resources of Crystal Universe to bring the world's finest natural and new age products to all their clients. Introducing new products and services and utilising the vast network of contacts from across the globe will assist Crystal Universe clients to succeed in their own business.
---
CurioGrove offers many types of fossils, minerals, and quartz crystal specimens as well as spheres, pyramids and an assortment of oddities. CurioGrove is also an emporium for Celtic jewelry and wall plaques, Civil War mini-balls, mineral and fossil books, lighted displays stands and other specimen display items. Please browse around awhile and give us a call or email us your questions, comments or requests. We are accessible and ready to help!
---
CyberRocks specializes in reasonably priced, high quality Minerals, Fossils and Fluorescents for all types of collectors. We realize your time is valuable, so we have organized CyberRocks in a straightforward, user friendly format. Below you will find links to the newly updated items offered. Further down are links to the Mineral section, Fossil section and Fluorescent section, along with a link to KIDSROCKS - where all specimens are less that $10.00. If you are interested in receiving updates of new specimens before they are posted to the Web, fill out the request form below and we will add you to our list.
Webdesign by forty seven press, Copyright 2002-2014; The-Vug.com, California